Fruit & Veggies Power Smoothie Recipe

Blended spinach and kale? Wouldn't be my first choice for breakfast either but combined with the natural sweetness of banana and berries, this combination is bursting with inflammation fighting antioxidants, immune boosting vitamins, fiber to keep you full, and protein to keep you going until your next meal.
Fruit 'n Veggie Smoothie
Prep time: 5 minutes
Blend time: 2-3 minutes
Total time: 8 minutes
Servings: 1
Serving size: 1
Nutrition per serving (using 1 serving of protein powder):
Calories 375Fat 8 gCarbs 52 gFiber 11 gProtein 29 g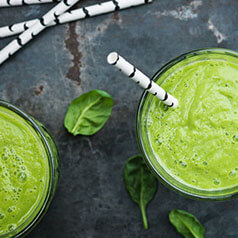 Ingredients
½ frozen banana or ¾ cup frozen banana slices
1 cup frozen berries (your choice)
2 handfuls of spinach or kale (make sure to remove stalks!)
1-2 servings protein powder of your choice
1-2 cups water or almond milk for desired consistency
Directions
Place all ingredients in blender and blend until smooth.
Tip: Personally, I prefer spinach because it blends better than kale but look for baby kale or use bags of juicing greens available in the salad section at your supermarket.
Try this smoothie recipe next