Fit Tip: Staying Active with At-Home Workouts

In the wake of the recent health concerns and news, daily routines have been upended and individuals are spending more time at home.
Giving up our daily gym routine isn't easy and being at home can be isolating, but time spent at home provides the opportunity to continue your regular exercise regime or start something new.
Keeping a sense of normalcy and staying active is key to our mental and physical health – studies have shown that exercise can help boost your mood, productivity and immunity. In addition, working out at home has also been shown to have numerous advantages, including convenience, privacy and the ability to incorporate short yet effective workouts into your day.
BowFlex fitness advisor and exercise physiologist Tom Holland offers some simple solutions for spending time at home wisely to maximize the benefits of fitness:
Schedule a meeting with yourself each day to exercise. Pencil it in, show up and sweat it out.
Master multitasking by connecting to streaming content and sweat through your favorite daytime show.
Replace the water cooler with a water bottle by practicing mindful meditation during your workout.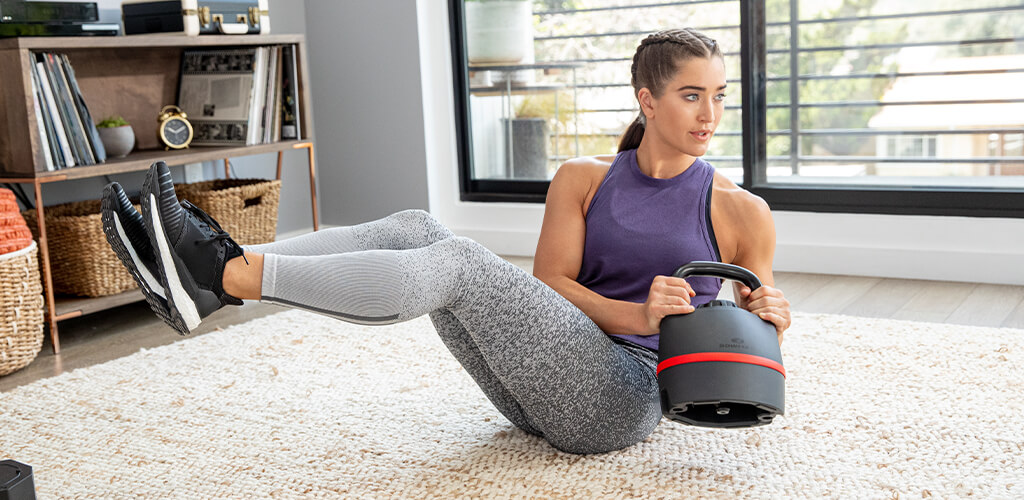 These quick workouts can be completed in the time you would usually be commuting to work or in between meetings, using a stationary bike or kettlebell. Holland recommends choosing a different workout each day to keep things fresh, or pick a workout based on the amount of time you have available:
10 Minute Stress-Buster: Tabata Bike Workout

4 minute easy warm-up
20 second all-out sprint/10 seconds easy recovery
Repeat 8 times for a total of 4 minutes
2 minutes easy cool down

8 Minute Kettlebell Full-Body Blast

30 seconds Swings
30 seconds Overhead Presses
30 seconds Goblet Squats
30 seconds Russian Twists
Repeat circuit four times through

20 Minute Bike and Kettlebell Combo

4 minutes easy warm up on the C6

Circuit

30 seconds Kettlebell Swings
30 seconds Kettlebell Overhead Presses
30 seconds Kettlebell Goblet Squats
30 seconds Kettlebell Russian Twists
2 minutes on the C6
Repeat Circuit four times for 16 total minutes
In this moment, things may feel a bit unpredictable. Whether working from home or simply avoiding public spaces, this is one way to help turn uncertain times into a positive opportunity.
You may also like
Fit Tip: With Great Challenge Comes Great Opportunity