Fit Tip: June Squat Challenge

If you watch our weekly BowFlex Breakfast Club on the BowFlex Facebook page (live Wednesdays at 11AM EST) you know that we did a push-up challenge in April and we are finishing a plank challenge in May. These challenges are a fun, easy way to exercise at home, performing short workouts that can be done with the whole family. My two boys (10 & 14) have been doing the challenges with me and look forward to them every day.
These workouts are progressive and are meant to be done by all fitness levels. They will be challenging for some and easier for others, but the primary goal is consistency, not intensity. It is not how hard they are that matters, it is that you learn to stick to a daily routine. These challenges are also a great way to begin to establish healthy behaviors as a family, finding time to add short bouts of exercise in throughout the day.
Our two prior challenges have focused on the upper body and the core. For June we will be doing a lower body challenge – Squats. You will start with 10 squats every day for the first ten days of the month. Then, starting on the 11th, you will do the day of the month in repetitions. So 11 squats on the 11th and 12 squats on the 12th, finishing with 30 squats on the final day of the month.
Remember that good form is critical to building strength safely. Here are a few tips for proper squat technique:
Move from the hips first, sitting back as if there was a chair behind you
You can keep your arms straight out in front of you to help with balance
Keep looking forward and your chest pointing straight ahead
Keep your knees behind your toes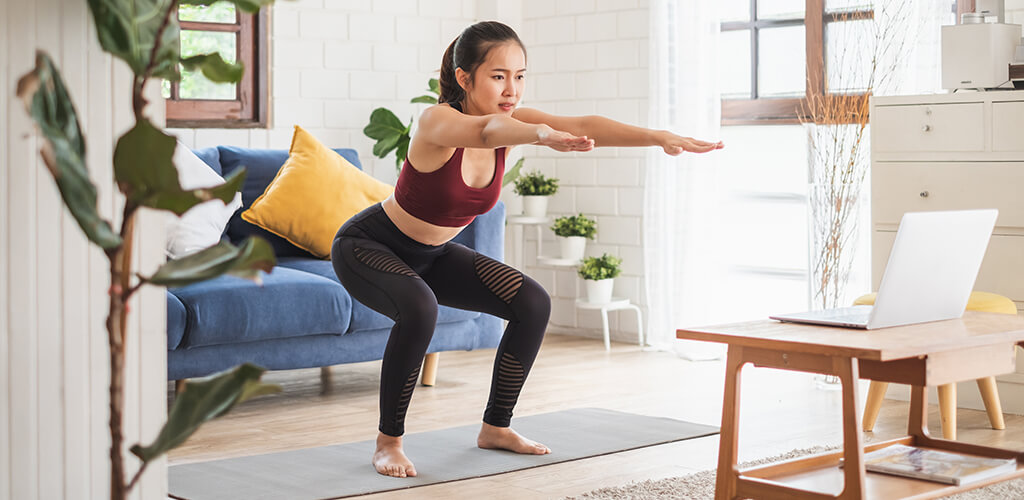 If you are just starting out, you might only squat down an inch or two with good form. That is perfectly fine. Do what you can do and begin to build your lower body strength. You can choose to do them with a couch or sturdy chair behind you as well.
If you are more advanced and want a modification to make it more difficult, you can make them plyometric "Pop Squats." Perform your squat as you would normally, then add in a jump at the top with both feet leaving the ground. You can choose to make some or all of your repetitions Pop Squats. Once again, do what feels comfortable while always maintaining proper technique.
We'd love to see you doing the June Squat Challenge! Post pictures and video throughout the month on our BowFlex Instagram page and use the hashtag #BowFlexSquatChallenge.
Remember that true success in fitness comes from doing a little bit of exercise a lot, not a lot a little bit. It's what I call "Excessive Moderation." Need more help on how to perform a proper squat? Watch this BowFlex video: Squats For Beginners: How to Do a Squat Correctly.
You may also like
Fit Tip: Arm Home Workout