Fish Taco Bowl With Jicama Corn Salsa

By guest blogger Kylie Mazon
When it comes to the Taco Tuesday menu, fish tacos are always my taco of choice. I love this lightened-up version served over brown rice rather than with tortillas. The pan-fried fish is flavorful and tender, and comes with a little kick from the combination of spices – a kick that is enriched by the added crunch from the jicama salsa. This easy recipe is perfect for weeknight dinners when things are hectic as it pulls together quickly.
Fish Taco Bowl with Jicama Corn Salsa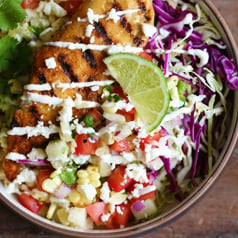 Prep time: 30 min
Cook time: 45 min
Total time: 1 hour 15 min
Servings: 4
Ingredients
For the jicama salsa:
2 ears of corn, shucked
1 tablespoon extra-virgin olive oil
kosher salt, as needed
1 cup diced jicama
1 medium jalapeño, seeded and diced
1/3 cup diced red onion
1/4 cup chopped cilantro
2 teaspoons freshly squeezed lime juice
For the fish:
1 teaspoon paprika
1 teaspoon chipotle chili powder
1/2 teaspoon garlic powder
1/2 teaspoon onion powder
1/8 teaspoon cayenne
1/2 teaspoon kosher salt
1 pound tilapia filets
1 tablespoon extra-virgin olive oil
For serving:
1 1/2 cups brown rice
1 cup shredded purple cabbage
1 cup shredded green cabbage
2 Roma tomatoes, cored and diced
1 medium avocado, peeled, pitted and sliced (optional)
1/4 cup sour cream, for serving
1/4 cup crumbled queso fresco
Directions
For the jicama salsa

Preheat oven to 400 degrees. Rub the ears of corn with olive oil and season with salt. Roast on a baking sheet until corn is tender, about 25 minutes. Cut the kernels off the corn cob and add to a medium mixing bowl. Add the jicama, jalapeño, onion, cilantro and lime juice to the bowl and stir to combine. Season with salt to taste and refrigerate until ready to use.

For the rice

Follow instructions on the package for quick-cooking rice. Cooking should take 10 minutes or so.

For the fish

While the rice is cooking, whisk together paprika, chipotle chili powder, garlic powder, onion powder, cayenne and salt in a small mixing bowl. Season the fish with the mix on both sides. Heat a large sauté pan over medium heat, add olive oil and heat through. Add the fish and cook until completely cooked through and flakey, about six minutes depending on thickness.

For serving

Divide the rice among four bowls. Top each with some of the shredded cabbage, tomato, jicama salsa, sour cream, queso fresco, avocado (if using) and a piece of fish. Serve immediately.
Meet Kylie Mazon
Kylie is the writer/cook and photographer behind Cooking with Cocktail Rings. An East Coast native, she is now based in Los Angeles and loves to travel whenever she can. Taking inspiration from the food she experiences on her travels (or just dining out in LA), she creates delicious recipes that reflect cuisines from around the world.
Kylie's world has — and always will — revolve around food. As soon as she finishes one meal, she is planning the next. While she is not a classically trained chef, she makes every effort to teach herself new methods and styles of cooking. For Kylie, cooking is cathartic — it doesn't have to be perfect, and there is plenty of room for experimentation.
Find her on social
Check out more of Kylie and her recipes on her website, cookingwithcocktailrings.com. You can also find her on Twitter and Facebook.
Try this recipe next