Fall Recipe: Curried Spinach and Sweet Potato Freekeh

Looking for a wonderful recipe to capture the feeling of fall? This Curried Spinach & Sweet Potato Freekeh recipe is a must! It's a great dish served warm, room temperature, or chilled, and makes a tasty on-the-go lunch. It is also a great source of fiber, and is very high in vitamins A, B6, and C, and has 30 percent of your daily iron needs.
Curried Spinach and Sweet Potato Freekeh
Servings: 5
Nutrition per serving:
Calories 280Fat 10.5 gCarbs 38.4 gFiber 10.3 gSugars 11.4 gProtein 9.2 g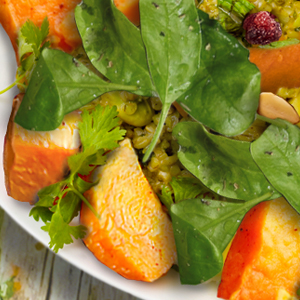 Ingredients
2 cups diced sweet potatoes
2 Tbsp red palm oil
1/2 cup Tamari Freekeh
2 1/2 cups chicken or vegetable broth
1 large green pepper, chopped
1/2 onion, chopped
2 Tbsp garlic, minced
5 Tbsp mild curry powder
1/4 cup parsley, chopped
2 cups baby spinach, chopped
1 cup frozen peas, thawed
1/2 cup Almond Accents (Honey Roasted with Cranberries)
Salt and pepper to taste
Directions:
Preheat oven to 375 degrees F. Put sweet potatoes on nonstick baking sheet and drizzle 1 Tbsp of the palm oil on them. Bake for about 25 minutes. Remove from oven and set aside.
While the sweet potatoes are in the oven, cook the freekeh according to package directions, using the chicken or vegetable broth in place of water.
Heat the remaining tablespoon of oil in a large skillet over medium heat, and add the green pepper, onion and garlic. Cook for 4 to 5 minutes, and then toss in curry powder, parsley, spinach, and peas. Continue cooking until onions are translucent. Pour into large mixing bowl with freekeh, sweet potatoes, and Almond Accents, and season with salt and pepper to taste. Gently toss, and serve.
---
Try this recipe next