Healthy Recipe: Eggplant Chili

Not ready to give up your winter chili recipes now that spring is here? This veggie chili is a hit every time I serve it. Not only is it delicious, it is filled with 18 grams of fiber and is very high in potassium. This is a great dish to double and take to a potluck because you can easily keep it warm in a crockpot (just leave out the cheese).
Eggplant Chili
Prep time: 15 minutes
Cook time: 1 hour 15 minutes
Total time: 1 hour 30 minutes
Servings: 6
Serving size: 1/6th of total made
Nutrition per serving:
Calories 310Fat 11 gCarbs 45.6 gFiber 18 gSugars 9.8 gProtein 12.9 g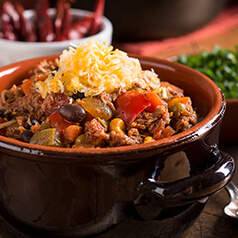 Ingredients
3 large eggplants
1 large white onion, chopped
2 tablespoons avocado oil
1 tablespoon garlic, minced
3 cups vegetable broth
1/2 cup wheat berries
1/2 cup barley
1 tablespoon garam masala
2 large tomatoes
juice of 1 lime
1 can, 15 ounce, kidney beans
1 can, 15 ounce, navy beans
3/4 cup portion of mozzarella cheese, cut into 12 dice-size cubes
1 avocado, diced and tossed in lime juice
1/4 cup green onion (optional)
Salt and pepper
Directions:
Preheat oven to 400 degrees F (204 degrees C).
Fork eggplant a few times, and place on baking sheet in oven for 30 minutes, and then set aside until cool enough to handle. You can also do this step the night before, and just keep cool in the refrigerator until you are ready to continue the rest of the steps. Once ready, scoop out flesh and cut into pieces
Heat oil in a large pot on medium high and add onion and garlic. Cook until soft (about 5 minutes).
Add broth, wheat berries, barley, and garam masala and bring to a boil. Reduce heat and simmer for 30 minutes, covered. Stir occasionally.
Add eggplant, chopped tomatoes, lime juice, drained kidney and navy beans to pot. Season with salt and pepper to taste and stir and simmer for about 10 more minutes.
To serve: place two of cubes of mozzarella in the bottom of a bowl, and top with 1/6th portion of chili. Garnish with avocado and green onion if desired.
Be sure to check out our other recipes for more delicious and healthy meals.
Try this recipe next