Healthy Recipe: Edamame Salad

Looking for a great source of protein and fiber? Try this quick and easy edamame salad. Every time I make this salad it is a huge hit and gone within minutes. Also, it is perfectly fine to prepare this dish the night before, as the flavors meld beautifully overnight.
Edamame Salad
Servings: 4
Nutrition per serving:
Calories 125Fat 6.6 gCarbs 10 gFiber 4.2 gSugars 2.1 gProtein 6.9 g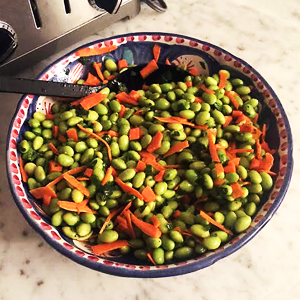 Ingredients
1-1/2 cups cooked shelled edamame beans
2 large carrots, grated
1/3 cup, green onion, sliced thin
2 Tablespoons cilantro, chopped
2 Tablespoons rice vinegar
2 Tablespoons lemon juice
1 Tablespoon olive oil
1 teaspoon minced garlic
Salt and pepper to taste
Directions:
Toss the edamame, carrots, green onions, and cilantro in a bowl.
Whisk the rice vinegar, lemon juice, oil, and garlic in a small bowl.
Toss all ingredients gently together, and season with salt and pepper.
Cover and place in fridge to chill until serving time.
Try this recipe next