Healthy Recipe: Immune System Boosting Crockpot Thai Curry

If you follow my blogs, by now you can probably tell I adore my crockpot! It's an absolute life-saver, especially on the days I get home at 5:30 p.m. and have a hungry family to feed. Or even on days off, it's convenient to set it and forget it to spend more time visiting with friends or "playing kitchen" with my toddler. This simple dish tastes exotic with rich complex flavors and robust color, but isn't overly spicy. You can add other vegetables of your choice or replace the chicken with shrimp, pork loin, or flank steak. The combination of veggies, and curry spices make for a powerful dose of antioxidants, to boost your immune system.
*Canned Coconut Milk and Curry Paste can be found in the ethnic or Asian section of most grocery stores. Look for curry powder in the spice aisle.
Crockpot Thai Curry
Servings: 2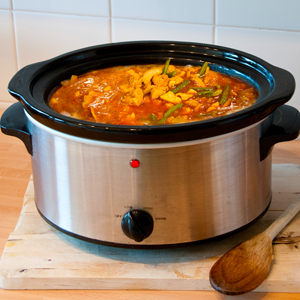 Ingredients
2 chicken breasts, diced
1 can light coconut milk
2 tablespoons red curry paste
2 cups green beans
3 medium carrots, diced
1 small white onion, diced
2 tablespoons fresh basil, chopped, or 4 frozen basil cubes
1/2 to 1 cup chicken broth
1 tablespoon curry powder
Directions
Combine all ingredients in crock pot. Make sure there's just enough liquid to cover the chicken and veggies.
Cook on low for 4-5 hours. (My crockpot tends to cook very quickly so this may need to be adjusted depending on your crockpot)
Serve over brown rice or quinoa.
Read this next