Creamy Tomato Soup With Cauliflower Grilled Cheese Bites Recipe

There's nothing like a bowl of tomato soup and grilled cheese. I find myself craving its comfort during the winter months, and the other day I remembered an idea I had a while back after making cauliflower crust pizza bites – what would happen if you made grilled cheese with cauliflower crust? And what about a tomato soup with cauliflower grilled cheese bites? Yes, I know, it sounds amazing. And now I can confirm, that it's 100% amazing.
On a winter weekend while cozied up in my house I started experimenting. And what I ended up with was an easy, but classically delicious and creamy, tomato soup. Next was the grilled cheese bites. For these, I took a similar approach to the pizza bite crust but added more parmesan and an egg to try and keep everything 'glued' together. If you've ever made anything of the cauliflower variety you know it can be a bit tricky and loose, but that's what I love about the grilled cheese bites – you can't really mess them up because when if it falls apart, just 'glue' it back together (read: cheese it back together).
If you're a keto fan, you'll love this recipe, as will those of you looking to cut carbs and bread. You should also know that the soup is delicious and is super quick and easy to make as a standalone – so if the idea of cauliflower grilled cheese sounds too complicated (but I promise you it's not) feel free to just make the soup. But trust me, make the cauliflower grilled cheese.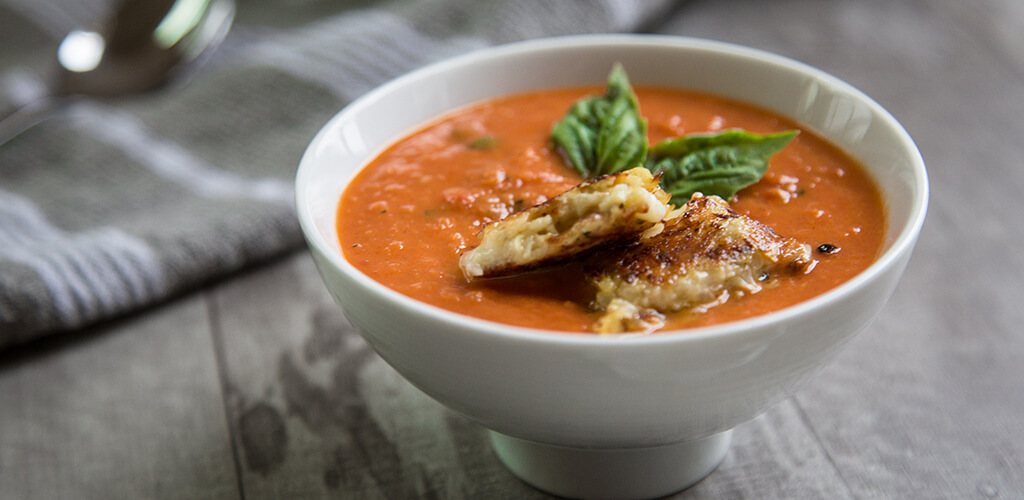 Creamy Tomato Soup With Cauliflower Grilled Cheese Bites
Prep time: about 20 minutes
Cook time: about 40 minutes
Total time: about 60 minutes
Ingredients
For the Creamy Tomato Soup:
2 tablespoons butter or olive oil
3 cloves garlic, minced
½ large onion, diced (or 1 medium onion)
1 28 oz can of peeled, whole tomatoes
½ cup chicken bone broth* (or more as desired)
½ teaspoon salt
¼ teaspoon pepper
4 basil leaves, finely chopped (more for garnish, if desired)
¼ cup of heavy cream
*You can use regular chicken broth, but I love the added benefits and taste of bone broth.
For the Cauliflower Grilled Cheese Bites:
1 10 oz bag of riced cauliflower (you can find in the frozen food aisle)
1 egg
½ cup shaved parmesan cheese (I buy the pre-shaved kind in the cheese cooler)
¼ teaspoon oregano*
¼ teaspoon basil*
¼ teaspoon ground garlic or garlic powder*
¼ teaspoon onion powder*
¼ teaspoon salt*
¼ teaspoon pepper*
Cheesecloth (to strain the cauliflower)
Sliced cheddar cheese (or cheese of choice for the grilled cheese)
*I like to season to taste, so use more or less of the spices as desired.
To Get The Goods
In a large pot, melt the butter over medium heat. Add the diced onion and cook until the onions start to become translucent about 10 minutes. Add the minced garlic and sauté for about 1-2 minutes to release the garlic flavor, but being careful not to burn.
Add the can of peeled whole tomatoes and their juice into the pot. You can break up the tomatoes by cutting them with kitchen shears, or just wait until blending.
Add the spices and bone broth and simmer for 5-10 minutes.
Using a handheld emulsion blender, carefully blend the soup in its pot (careful it doesn't fly out of the pot and burn you!) until you get desired consistency. For a chunkier soup, don't blend too much – for a smoother soup, blend all the way through. If you don't have an emulsion blender you can wait for the soup to cool down, then transfer to a blender (Ninja works well, too). Then return to the pot.
Stir in the heavy cream until you arrive at your desired consistency and creaminess. Stir in the chopped basil at the very end before serving (this helps keep its beautiful green color, otherwise if you add too soon it will cook off).
Meanwhile, for the grilled cheese bites:
Heat the oven to 375° F. Lightly grease a baking sheet and set aside.
Microwave the frozen riced cauliflower as recommended on the bag. Let cool, then squeeze the excess water from the rice by adding the cauliflower (in batches) to the cheesecloth and squeezing. The more water you can get out, the better.
Whisk egg in a large mixing bowl, then add the squeezed cauliflower, spices, and shaved parmesan. Stir to combine evenly.
Spoon out ¼ of the mixture into your hands and roll together then place on the greased baking sheet. Using your hands, try your best to form a rectangular shape (like a slice of bread). Repeat until mixture is gone, you'll get about four pieces.
Bake at 375 for 12-15 minutes, until edges start to brown.
In a pan, melt about a tablespoon of butter and carefully transfer a "slice" to the pan. Don't worry if things start to get messy here. I almost gave up and started over, but that's where the "glue" comes together (the cheese will hold it all together and make it beautiful again). Add the slices of cheddar then top with another "slice" and allow the cheese to melt. Feel free to smoosh down with a spatula to get that cheese melting.
Once the bottom piece is getting crispy, carefully flip the "sandwich" and allow the other piece to get crispy. Then transfer to a cutting board and cut into bites as desired. I used a pizza cutter and it worked great.
Add the soup to a bowl, top with the grilled cheese bites, garnish with basil, and enjoy!
Tip: You can make these a fun party passer by serving the soup as a shooter. Pour soup into a small glass, then add a couple of bites to a skewer and rest on the glass to serve.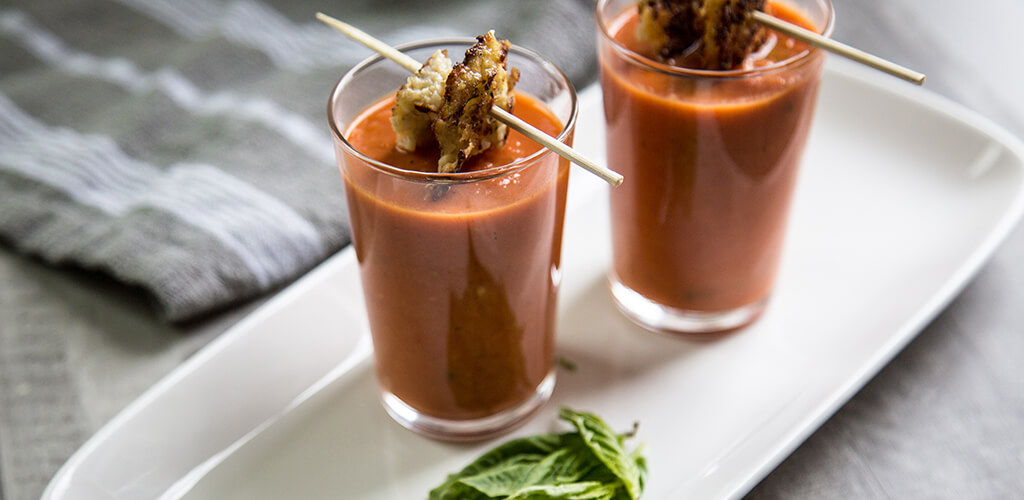 Try this soup next
Creamy Turmeric Chicken Soup Recipe