Holiday Saver: Cranberry Spiced Red Cabbage Recipe

There's no greater joy than being home for the holidays. The spirit and senses are elevated – the bright, glittering lights, the warmth of a cozy crackling fireplace, and the scents of firewood, fresh pine, and holiday spices fill the air between our loved ones and us.
The winter months naturally lend itself to comfort foods, but there are ways to add comfort to meals outside of packing on the calories. Try using other sensory details in the kitchen this holiday – vibrant colors, interesting textures, and warm spices, all giving the nod to the season upon us.
This cranberry spiced red cabbage checks all the boxes with its beautiful purple-red hues, nibbles of sweet cranberry, and tender, subtly spiced cabbage. Cooking in a braiser allows all of the flavors to simmer and meld nicely, using the red wine and bone broth to release the sweet taste of cranberry and warmth of the spices. The longer you simmer, the deeper the flavor. Use this dish as a healthier side to fill the family table, or as a make-ahead meal companion during the busy weeks ahead.
Tip: A braiser is a wide, heavy pan with a tight-fitting lid. If you don't have a braiser, you can try using a large, deep skillet with a cover or a large dutch oven – whatever you use, be sure it's bing enough for your ingredients or consider cutting the recipe in half.
Braised Red Cabbage with Cranberries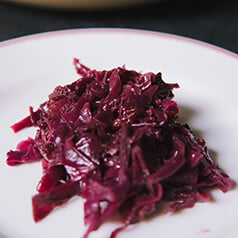 Prep time: 15 minutes
Cook time: 45 minutes
Total time: 60 minutes
Ingredients
1 medium cabbage (about 2 lb.), cored and shredded
1 red onion, sliced
1 apple, grated
3 tbsp butter
½ cup red wine
4 tablespoon red wine vinegar
½ cup bone broth
1 ½ teaspoon kosher salt
1 ½ ground pepper
1 cinnamon stick
½ cup dried cranberries (or more if you want it sweeter)
2 pinch allspice
2 pinch nutmeg
1 ½ tablespoon fresh lemon juice
To Get The Goods:
Melt butter in a braiser. Add sliced onions and cook until soft with salt and pepper.
Add shredded red cabbage and shredded apple to the onions and stir until combined. Sauté for a minute or two.
Add allspice, nutmeg, ¼ cup wine, bone broth, and vinegar. Cover and simmer for 30 minutes, stirring occasionally.
Add remaining the cranberries, cinnamon stick, and remaining ¼ cup of wine. Add an extra ½ teaspoon of black pepper for more kick, but this is optional. If you want added sweetness, add more dried cranberries. Simmer for 15-20 more minutes. Stir in lemon juice before serving and season with salt and pepper to taste. Enjoy.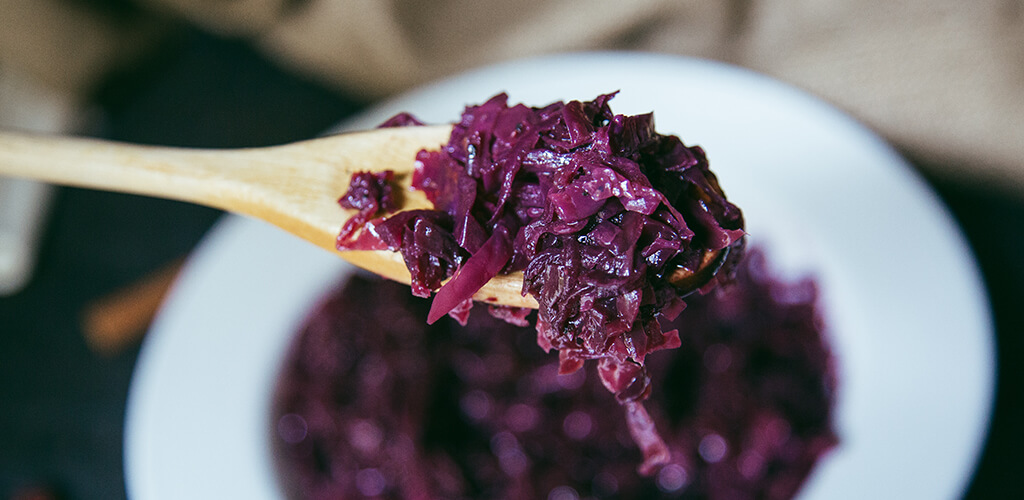 Be sure to check out our other recipes for more delicious and healthy meals.
You may also like
Healthy Holiday: Frozen Yogurt Bark Recipe