Cooking with Coconut Flour

Whether you're looking for a nutritiously superior baked good, have to avoid gluten, watch carbs, or just want to try something new and different, coconut flour is an alternative worth trying.
Made from dried, defatted coconut meat, coconut flour packs a serious nutrition punch in comparison to wheat flour. Coconut flour has twice as much fiber and the same amount of protein as whole wheat for the same number of calories! For the weight conscious, it's obviously not a lower calorie alternative. But what you get in those calories, whether it's in a muffin or pancake, will keep you fuller longer and keep your energy and blood sugar levels more consistent than having a typical white flour stack of flapjacks.
Here's a comparison of several of your flour options so you can see where coconut flour stands:
| Flour (based on ¼ serving size) | Calories | Protein | Fiber |
| --- | --- | --- | --- |
| White Flour | 120 | 3g | 1g |
| Whole Wheat Flour (Bob's Red Mill) | 140 | 6g | 5g |
| Coconut Flour | 140 | 6g | 10g |
| Almond Meal | 150 | 7g | 3g |
| Gluten Free Flour Blend | 130 | 1g | 2g |
Because it is extraordinarily absorbent, less coconut flour is needed for recipes. For every 1 cup of coconut flour used, approximately 6 eggs are needed in addition to one cup of liquid. If replacing whole wheat flour with coconut flour, use ¼ cup coconut flour for every 1 cup of whole wheat flour.
Personally I've had better luck with coconut flour versus other grain free flours like almond meal and the slightly sweet and nutty flavor of coconut flour is perfect for baked goods. These pancakes are fluffy, dense, and very filling. Unlike traditional pancakes, you won't experience feeling hungry two hours after eating!
Super Fluffy Coconut Pancakes
Servings: 1
Serving size: 2-3 small pancakes
Nutrition per serving:
Calories 250Fat 12 gFiber 6 gProtein 14 g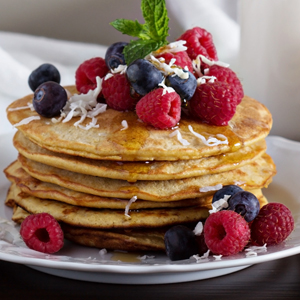 Ingredients
2 eggs (room temperature)
2 tablespoons coconut flour
1/8 tsp sea salt
1/2 small banana, mashed
1 tsp vanilla extract
1/2 tsp baking soda
Dash of cinnamon or pumpkin pie spice
Directions
Mix all ingredients together in mixing bowl. Add 1-2 tablespoons of almond milk or water for thinner pancakes.
Cook over medium heat for 3-4 minutes on each side.
Top with maple syrup and/or fresh fruit.
Read this next