Connected Fitness: Meet our Newest Cardio Products

If you're on the hunt for a cardio experience that is engaging, motivating and makes you come back for more, then we have just the thing for you.
To get your legs pumping, the new connected BowFlex Max Trainer M9 machine and BowFlex Treadmill 22 come with a built-in HD touchscreen that provides access to our JRNY® digital fitness platform. Our JRNY platform not only provides access to a mix of individualized workouts, including real-time coaching, and on-demand classes, but also gives you the option to access your own entertainment subscriptions like Netflix and Amazon Prime Video from the HD touchscreen.
Are you bored working out in the garage without a TV or in need of some motivation after a long day of work? Not a problem. With the BowFlex Max Trainer M9 or BowFlex Treadmill 22, a JRNY® Membership, and your own streaming subscription, you don't have to pick between being pushed by a personal trainer or binge-watching that show you've been addicted to lately. With the layering capability, you get the best of both worlds: a heart-pumping, coached workout along with a good laugh (or thrill; we aren't judging).
Both machines come equipped with the JRNY digital fitness platform, which offers personalized cardio workout experiences based on an initial fitness assessment. From there, the platform learns and adapts as members progress — creating a tailor-made experience.
While both machines offer a variety of experiences. Check out the details below to determine which might be the best fit for your lifestyle:
Why choose the BowFlex Treadmill 22?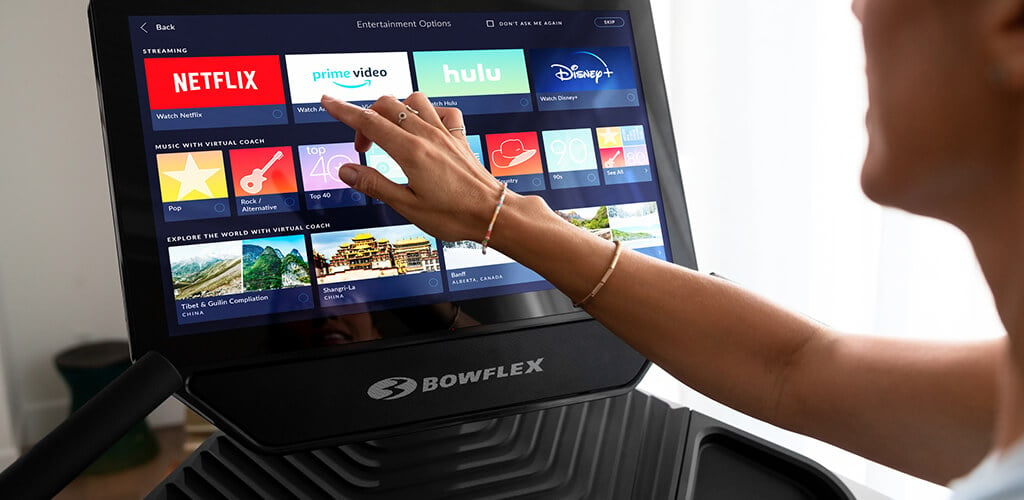 To fuel your runner's high, the newest addition to the BowFlex connected treadmill line offers a high energy and engaging cardio experience. The product features a 22" console with an HD touchscreen loaded with popular video streaming apps so JRNY® members can watch their favorite entertainment by accessing their streaming subscriptions from the console. With speeds up to 12 mph and a motorized 20% incline, you can push yourself even further with a variety of workouts while also experiencing Comfort Tech deck cushioning for a supportive landing. The SoftDrop folding system and transport wheels make it easy to move and store the treadmill around the home. Additionally, Treadmill 22 users can digitally connect to Zwift by utilizing their own mobile smart device and third party subscription.**
Why choose the BowFlex Max Trainer M9?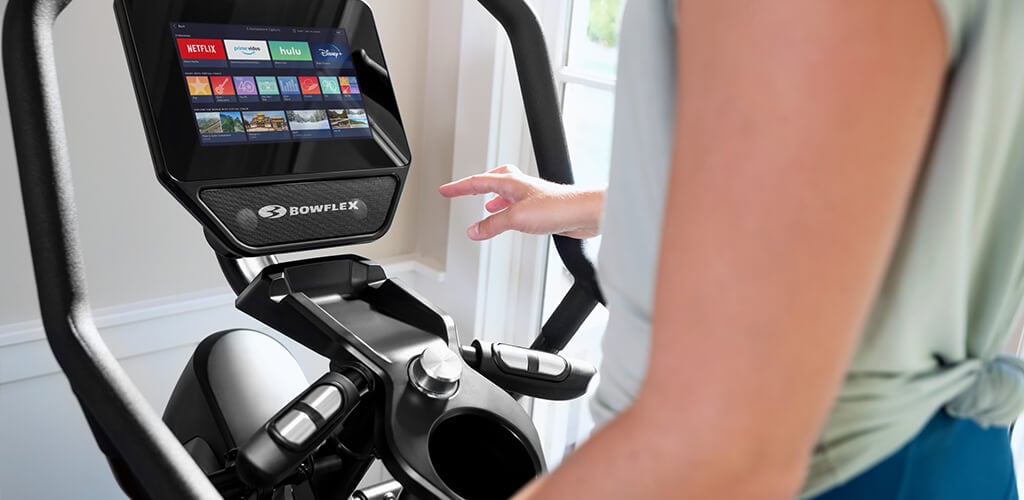 The BowFlex Max Trainer® machine took the fitness industry by storm as a new cardio machine that blended the low impact of an elliptical and high intensity potential of a stepper to offer short, high-calorie burn interval workouts in a compact design. To enhance this experience, the new BowFlex Max Trainer M9 features a 10" console with an HD touchscreen – to help you stay focused, motivated, and entertained while meeting your fitness goals. With 20 resistance levels, M9 users reap the benefits of longer workouts in less time.
Check out the BowFlex T22 treadmill for $2,799*** and the BowFlex Max Trainer M9 for $1,999***.
---
* Requires a subscription to the streaming service, not included. Also requires a JRNY® digital fitness platform membership to access the streaming service from the console.
** Requires a tablet or phone and separate third party subscription, not included. There is no affiliation with Zwift.
*** Prices subject to change.