Back to School Recipe: Cocoa Balls

This summer I visited my cousin in Ridgway, Colorado. Life in Ridgway is pretty active. Come to think of it, life anywhere in Colorado seems active. Everyone I meet here has some sort of all terrain vehicle that never gets washed because there's no point, at least two bicycles, and owns no shoes with a heel of more than one inch. The biggest decision on a summer day in most small towns in Colorado is which mountain to hike.
On one such day, my cousin decided to lead the family on a hike to Lake Columbine. We prepared for an all day adventure complete with camelbacks filled with water, various types of clothing, snacks, and treats to lure the youngest one up the hill. I'm pretty sure that's the only time I packed a winter hat, sunscreen and a tank top all in one bag.
Of all the treats we had that day to keep us moving up, up, and up the mountain, these Cocoa Balls, as I now call them, were my favorite. They were both healthy and tasty - the holy grail of food. They make a great back to school treat when the young-ins are whining about returning to the classroom. I can't say they will be happy with you when you force homework, but these should, at the very least, put a smile on their face at lunch or snack time. They're also good for adults - as evidenced by my two-a-day habit during my visit. Pop one pre workout for a shot of healthy fat, fiber, and natural sugars to maintain glycogen levels. Or, for a post workout option, you can amp the protein by adding your favorite supplemental protein powder to them.
No matter how you eat them, this functional food treat will soon be your family's fave!
Cocoa Balls
Servings: 24
Serving size: 1 ball
Nutrition per serving:
Calories 154Fat 10 gSugars 6 gProtein 4 gSodium 61 mg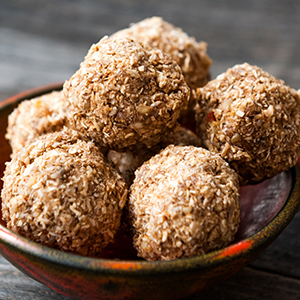 Ingredients
2 tbsp. coconut oil
1/4 cup maple syrup, honey, coconut nectar or other natural sweetener
1 cup natural peanut or almond butter (or blend of the two!)
1 tsp. vanilla
1/4 cup cocoa powder
1 tsp. cinnamon
1 cup shredded coconut
1 cup oats
1/4 tsp. salt
1/2 cup flaxseed meal/hemp seed/chia seed (or blend)
1/4 cup protein powder of choice (optional)
Directions
Pre-heat oven to 325 degrees F.
Melt sweetener and coconut oil on low heat and mix together.
Place all ingredients except oil and sweetener mixture together and mash with fork until well mixed. Add liquid and continue to mix and press together.
You can use a mini ice cream scooper or 1/4 measuring cup to form shapes and place on cookie sheet.
Bake for 10-12 minutes. Cool before serving.