Slimmed Down Clam Chowder

Nothing is more comforting than a warm bowl of hearty soup during the cold winter months. Clam chowder is a family favorite and this version replaces some of the potatoes with cauliflower, swaps heavy cream for milk of your choice, and adds diced bacon for a little crunch and extra flavor. The combination of Yukon gold potatoes, which are creamier in texture in my opinion, and cauliflower, makes for a smooth and filling bowl of chowder. The crockpot does the majority of the work so a hot meal is ready to go at the end of the day. Serve with side salad to round out the meal.
Shrimp and Clam Chowder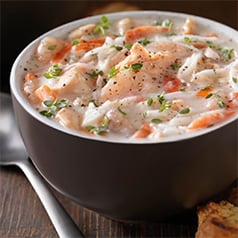 Prep time: 20 minutes
Cook time: 4–8 hours
Total time: 4–8 hours and 20 minutes
Servings: 6
Nutrition per serving:
Calories 231Fat 7 gCarbs 24 gFiber 3 gProtein 20 g
Ingredients
1 tablespoon butter
1/2 whole large onion, diced
1 clove garlic, minced or 2 tbs minced garlic
3 whole Yukon Gold potatoes, Peeled and Cubed
1 head cauliflower, minced in food processor or 1 bag cauliflower rice
5 stalks Celery, diced
1 can chopped clams
2 cups of chicken broth or bone broth
2 cups salad shrimp, pre-cooked
1 cup milk of your choice
6 slices cooked bacon, diced
½ cup green onions, chopped (optional)
Directions
In a slow cooker add butter, onion, and garlic. Turn slow cooker to high while dicing potatoes, and celery. Cover and cook onion until it becomes translucent, about 10-15 minutes.
Add diced potatoes, cauliflower, and celery.
Drain clam juice from canned clams and add juice to slow cooker. Store drained clams in refrigerator. Add broth.
Stir potatoes and cauliflower well, and cover. Set slow cooker to high for 4-6 hours, or low for 8 hours.
When potatoes are tender use a potato masher or immersion blender to mash half of the potato mixture in the slow cooker. Add clams and shrimp and stir well, cook an additional 15-20 minutes or until clams are heated through.
Turn heat off and stir in milk. Once milk is added and warmed do not cook any longer.
Serve immediately with bacon bits and green onions, if desired.
You may also like
Chunky Cauliflower Chowder