Chunky Cauliflower Chowder Recipe

I love Fall, the changing in the seasons, slightly crisper weather, and it means it's soup season! Butternut squash and pumpkin soups are a personal favorite, along with chilis of all kinds but my family especially enjoys heartier creamy potato-based soups. This cauliflower chowder is lower-calorie and higher fiber but just as satisfying. And a little bit of bacon on top adds a lot of flavor with just a pinch more fat and calories – definitely worth it!
Chunky Cauliflower Chowder
Prep time: 15 minutes
Cook time: 30 minutes
Total time: 45 minutes
Servings: 6
Serving size: about 1 cup
Nutrition per serving:
Calories 190Fat 11 gCarbs 17 gFiber 3 gProtein 8 g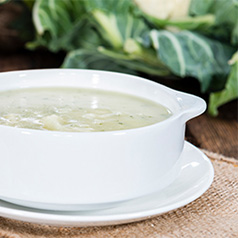 Ingredients
6 slices of cooked bacon, diced
2 tablespoons olive oil
3 cloves garlic, minced
1 medium onion, diced
4 carrots, peeled and diced
3 stalks celery, diced
1/4 cup flour
5 cups chicken broth
1 cup 1 or 2% milk
1 head of cauliflower, roughly chopped
2 bay leaves
Salt and pepper, to taste
Directions:
Cook bacon in oven or stovetop until crispy and slightly browned. Set aside to cool.
While bacon cooks, heat olive oil in a large stockpot or Dutch oven over medium heat. Add garlic, onion, carrots and celery. Cook for about 3-4 minutes, stirring occasionally.
Add cauliflower and bay leaves to pot. Cook for 4-5 minutes or until crisp tender, stirring occasionally.
Whisk in flour until lightly browned, about 1 minute. Gradually whisk in chicken broth and milk.
Continue whisking until slightly thickened, about 3-4 minutes.
Bring to a boil; reduce heat and simmer until cauliflower is tender, about 12-15 minutes.
Season with salt and pepper, to taste.
Add additional liquid for desired consistency, if needed.
Serve immediately, garnished with bacon, dried or fresh parsley, and shredded cheddar cheese (optional).
For extra flavor, try adding parsley and/or Shredded Cheddar or Parmesan Cheese.
Recipe adapted from damndelicious.net.
Try this recipe next