Chris's Story: Defying Expectations at Any Age

As we age, our muscle mass and strength tend to decrease. However, when Chris turned 60, he was determined to beat the symptoms of an aging body.
His journey started at a local gym, but something didn't click. The machines were worn down and rarely accessible. After years of using old, limited fitness equipment, Chris had almost given up hope on living an active lifestyle, until he stumbled upon a BowFlex home gym - The BowFlex Elite Plus®.
"I love its convenience. I took free weight exercises I found online and incorporated them into the BowFlex instead," he explained. "It's so flexible, and I can move seamlessly between so many different exercises."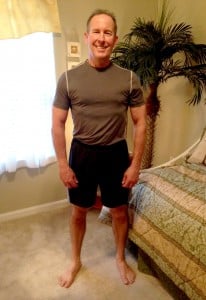 Since discovering the power of at-home workouts, Chris went on to convert his basement into a home gym. With 24/7 access to his own gym and the freedom to work out how he wants, Chris quickly established an exercise routine, alternating between strength training and his BowFlex® TreadClimber® - focusing on the essential balance between cardio and weight training. By alternating workouts, he started seeing results within a few months.
"I improved drastically in six months. I had more balance, and I was exercising parts of my body that I had neglected," Chris said. "At my age, gaining muscle mass isn't easy, but my stomach and arms are already much more toned."
As a dentist, Chris has also noticed a difference in something important to his profession: his posture. "My posture has improved. Using the BowFlex Elite Plus® has helped strengthen my core, which helps with the kind of work I do," he explained.
What does fitness mean to Chris? It means living a longer, healthier life: "There aren't too many things I won't take on. With my newly found confidence, I don't think anything can get in my way."