Fridge Free-For-All: Chicken Veggie Kabobs Recipe

Ever wonder how much food goes to waste every day? I do. It's something I think about every time I open the fridge and sigh "there's nothing to eat," but quickly give myself a reality check that I couldn't be more wrong. Those peppers from the farmer's market last week? Eat em. Those squashes that are starting to soften up and look a little sad? Cook em. That ziplock bag with half a red onion sitting in the back of the fridge? Use it.
According to the EPA, America disposed of 37.6 million tons of food waste in 2015. But there's nothing to make for dinner, right? I get it – food boredom can be a struggle, and cravings are real. But there are so many fabulous ways to give new life to a seemingly mundane fridge selection.
Grilling makes it easy, too. A quick chop, a drizzle of oil and seasoning, and onto the grill they go. And if you want to have a little fun with it, kabobs are a great way to turn nothing into something – something colorful, healthy, and delicious.
Chicken Veggie Kabobs
Prep time: 75 minutes
Cook time: 15 minutes
Total time: 90 minutes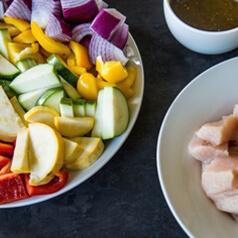 Ingredients
Chicken and Veggies
1.5 lb chicken breast, cubed
one red onion
one red pepper
one yellow pepper
one zucchini
one yellow squash
The Marinade
½ cup olive oil
¼ cup balsamic
½ Tbsp. Dijon Mustard
⅛ - ¼ tsp. ground garlic or garlic powder
salt and pepper to taste
1 Tbsp. maple syrup
To get the goods
Cut the red onion, red pepper, and yellow pepper into 1-inch pieces. Slice the zucchini and yellow squash about ¼ inch thick, then cut into half-moons. Set veggies aside.
Whisk together all marinade ingredients – olive oil, balsamic, dijon, garlic powder, salt and pepper, maple syrup. I like to taste my marinade after whisking to ensure the flavor is perfect. Once you're good, put cubed chicken in a ziplock bag and pour marinade over. Marinate for at least an hour or more, giving the chicken every opportunity to soak up those tasty flavors, making for juicy and flavorful bites once grilled.
Before we start assembling, if you're using wooden skewers, be sure to soak them for about twenty or thirty minutes ahead of time to keep them from burning on the grill.
Now for the fun! After marinating the chicken, assemble the kabobs by alternating the different veggies and chicken until your kabob is full.
Fire up the grill and rotate to cook evenly on each side. For added flavor, you can brush on a bit of the remaining marinade as you're cooking. Enjoy.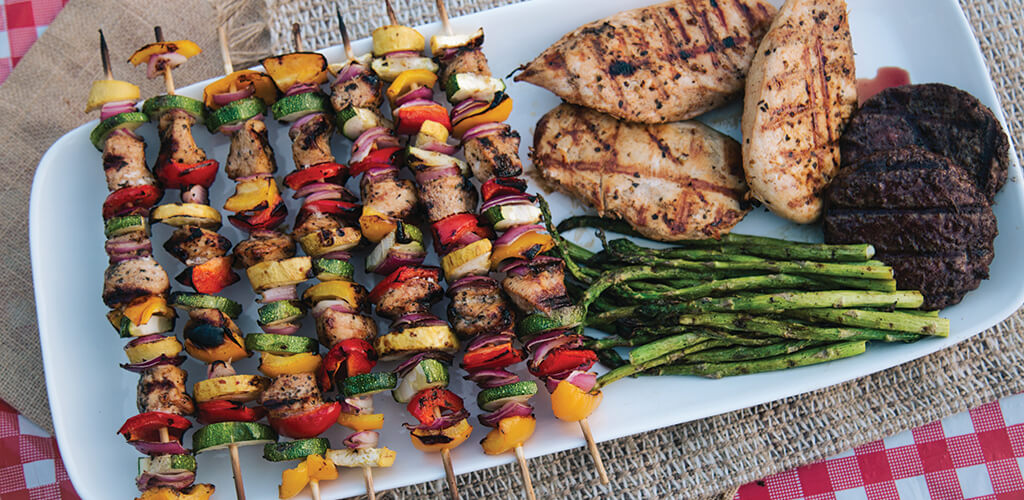 Try this recipe next
Grilled Veggies Galore