Not Your Dietitian's Cauliflower Mashed Potatoes Recipe

Usually you can tell mock mashed potatoes from the real deal so what's the next best thing? A mixture of the two, of course! I recently hosted and had a few guests who needed lower-carb options. Surprisingly, these were gone before the traditional all-potato mashed potatoes! This lower-calorie higher fiber option might just become a new holiday tradition.
Cauliflower Mashed Potatoes
Prep time: 15 minutes
Cook time: 5 minutes
Total time: 20 minutes
Servings: 6-8
Serving size: 3/4 cup
Nutrition per serving:
Calories 150Fat 5 gCarbs 18 gFiber 3 gProtein 11 g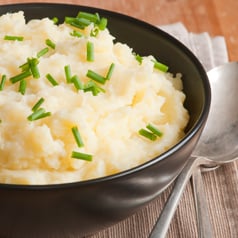 Ingredients
1 head of cauliflower, chopped
3 Russet potatoes, peeled and diced
1/4 cup shredded Parmesan cheese
1 cup of milk of your choice
1 cup of chicken or vegetable broth
1 tsp garlic, minced
Salt and pepper to taste
Chives, fresh, chopped finely
Directions:
Bring water to boil in medium pot. Cook cauliflower and potatoes until soft, about 5-6 minutes. Drain.
Puree the potatoes and cauliflower in a large mixing bowl with the milk, garlic, and cheese with an emersion blender. If you don't have an emersion blender put all above ingredients in a blender and blend until smooth.
Add salt and pepper to taste, garnish with chives and enjoy!
Tip: Adjust amounts of milk and broth for desired consistency.
You may also like
Chunky Cauliflower Chowder Recipe