Spooky Cauliflower Crust Pizza Bites Recipe

The witches stew is brewing, and the goblins are lurking. What a fun time for the kids and adults like us who are young at heart. Halloween eats can feel oh-so-scary to our waistlines, but we're using tricks in our treats – these spooky pizza bites use a cauliflower crust to give life to mummies and monsters. These are a fun finger food to make with the kiddos while carving pumpkins, or as a healthier snack to bring along to an adult Halloween party.
Spooky Cauliflower Crust Pizza Bites
Prep time: 20 minutes
Cook time: 20 minutes
Total time: 40 minutes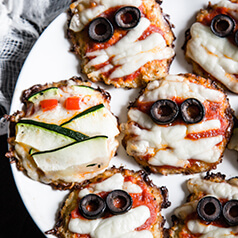 Ingredients
For the cauliflower crust:
1 bag of frozen riced cauliflower
½ tsp garlic powder
¼ tsp onion powder
1/8 tsp oregano
1/3 cup shredded mozzarella
2 tbsp grated parmesan blend
Cheesecloth (to squeeze moisture from the riced cauliflower)
For Mummies:
Marinara sauce
String cheese sticks, sliced or pulled into thin strips
Black olive slices
For Monsters:
Marinara sauce
Shredded mozzarella cheese
Zucchini, thinly sliced into ribbons
Diced red pepper
To Get The Goods
Following the cook time on the bag, microwave riced cauliflower. Once cooled, use cheesecloth to squeeze out the excess water – the more you squeeze out, the crispier the crust, so you use some elbow grease here.
Add egg to bowl and whisk. Stir in ground garlic, onion powder, oregano, mozzarella, and parmesan blend. Add riced cauliflower and stir until evenly combined.
Use a spoonful of the cauliflower mixture to form a ball in your hands, then pat to flatten onto parchment lined baking sheet.
Bake at 400° F for 20 minutes, or until the edges brown.
Remove from oven, top with sauce and toppings. For mummies, place the olives (eyes) down first, then layer the string cheese, weaving back and forth. For the monsters, top with shredded mozzarella, then add diced red pepper for eyes, then layer on the zucchini ribbons.
You can use the extra cheesecloth to decorate your platter or place setting, replicating mummy wrappings. Drizzle a little sauce for blood. Enjoy!
Tip: Many cauliflower crust recipes call for grating an entire head of cauliflower. Save yourself some time by heading to the frozen foods aisle and picking up a bag of frozen riced cauliflower.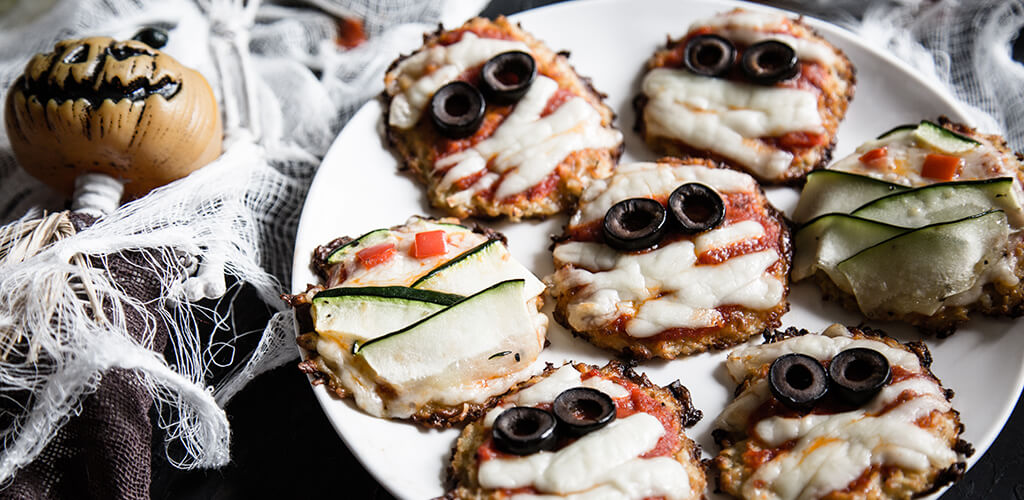 Try this recipe next
Healthy Pumpkin Spice Latte Recipe