Back-to-School Carrot and Apple Oat Cookies

A slightly sweet blend of fiber and protein — Perfect for an afterschool snack, pre-practice or pre-workout bite, or alongside yogurt or eggs for a well-balanced breakfast for kids and adults! Healthier than commercial granola bars and snack bars.
Back-to-School Carrot and Apple Oat Cookies
Servings: 30 cookies
Serving size: 1 cookie
Nutrition per serving (without optional ingredients):
Calories 114Fat 4 gSodium 100 mgSugars 4 gProtein 3 g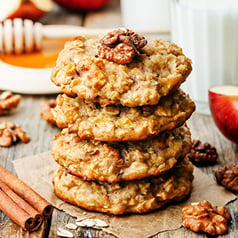 Ingredients
2 cups whole wheat flour
1 cup plain quick oats
1/2 teaspoon baking powder
1/4 teaspoon baking soda
1 teaspoon cinnamon
1/2 tsp nutmeg
1/2 tsp salt
2 large eggs
1/4 cup coconut oil
1/4 cup honey
1 teaspoon vanilla extract
1 cup grated carrot
1 cup grated apple
1 medium banana, mashed
Optional Ingredients
1/3 cup semisweet chocolate chips and/or chopped walnuts
Directions:
Preheat the oven to 350 degrees. Spray cookie sheet with cooking spray or line with silicone baking mat.
In a large bowl mix together the dry ingredients (flour through salt)
In a separate bowl beat the egg. Add the melted coconut oil, honey and vanilla extract and stir well. Add this mixture to the large bowl with the dry ingredients and mix until well combined.
Add the grated carrot, grated apple and mashed banana and again stir until everything is well mixed together. If using the chocolate chips or nuts, add now.
Roll the cookie dough into 1 inch sized balls. The dough should make approximately 20 balls. Place each ball of dough on the cookie sheet and press down lightly with a fork.
Bake in the oven for 13-15 minutes. Allow to cool on a wire rack.
Storage: The cookies can be stored in the fridge for 3 days or they can be frozen for up to 3 months.
Try this recipe next