Cal's Story: Balancing Running and Fatherhood

As a father of two, Calum Neff wanted to spend more quality time with his daughters, Alessandra and Holland. As a runner, he wanted to challenge himself. When Cal began pushing a stroller on his runs, he did so because he thought sharing his hobby with his kids would be a good experience for everyone involved.
Little did he know that he would end up holding world records for the fastest half marathon pushing a stroller, set in February 2016 at the Katy Half Marathon in 1:11:27, and the fastest marathon pushing a stroller, set in October 2016 at the Toronto Marathon with a time of 2:31:22.
Cal's training program is a fairly typical marathon program. However, he makes it a priority to go on weekly runs with one of his girls in the stroller.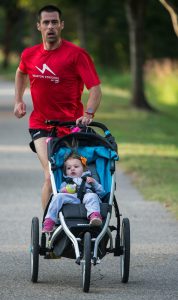 When Cal is out running with one of the kids, his focus shifts from training to spending quality time with his children. While riding in the stroller, each girl has her own way of keeping herself amused: Alessandra enjoys snacking, taking photos with her camera and asking questions about the nature they encounter, while Holland naps and enjoys her milk.
"We make destinations a priority," he says, noting that they frequently run to the park and other kid-friendly places around town.
In addition to going on runs with his daughters, Cal also incorporates cross training on the Octane Fitness® Zero Runner® as a key part of his training program.
In early 2016, Cal was introduced to the Zero Runner at a marathon expo, and it quickly changed the way he viewed training. With the help of the Zero Runner, Cal was able to cross train and maintain his fitness levels during times of injury.
"I really liked that it was cross training, but still kept the running form," said Cal. "With marathon training, you're bound to be sore, and there will be things that come up. Having the Zero Runner right there makes it feel like you're not losing out on a day of training."
According to Cal, his girls are his motivation for living a healthy lifestyle. He wants to be around as long as possible for them. Fitness is also his connection to the communities in which he has lived, and it allows him to make new friendships as his family travels — a native of Canada, Cal currently resides in Houston.
For those looking to start running with their kids, Cal's advice is to get a good stroller. It's important to get one that is not only comfortable for your kids, but also for you — you're not going to enjoy it if it's not fun for everyone.
"Don't be scared to start," he says. "Get out with your kid, and give it time so everyone can get used to it. It's not as hard as it looks, the resistance of the stroller goes away once you get started."
What's up next for Cal? He plans to continue his marathon training into 2017 in pursuit of a new personal record and perhaps take on some more world records with his stroller — baby No. 3 is currently on the way!
---
You may also like: