The Business of Fitness: Making Time for your Well-Being

As a career and leadership expert, founder of Manifest Yourself, and author of Next Move, Best Move: Transitioning Into a Career You'll Love, it's safe to say that Kimberly Cummings is a busy woman.
To help power her busy schedule and keep her energy high, Kimberly makes health and fitness a priority. As an entrepreneur who's constantly on the go, she has come to realize that fitness goals need to be treated just as she would treat business goals.
Given her busy schedule, Kimberly usually finds herself closing the laptop around 7 p.m. and going to bed early to wake up before 6 a.m. to work out. While finding the motivation to work out can be difficult, it is even more so early in the morning.
To find fitness motivation, Kimberly started a private Instagram where she only follows health and wellness-related content to remind herself of her goals. Further, she has found it helpful to share her goals with one person who can hold her accountable on days when she's not feeling motivated or committed.
Currently, her fitness regimen includes 6 a.m. strength training sessions with a trainer three days a week and then cardio on her BowFlex Max Trainer M5 three days a week for 30-45 minutes. Although she's had her machine for four years, Kimberly still regularly uses and enjoys the Max Trainer because it makes working out at home a breeze and it's the perfect combination of an elliptical and stair climber. Being able to get in a high-quality workout at home is crucial for her.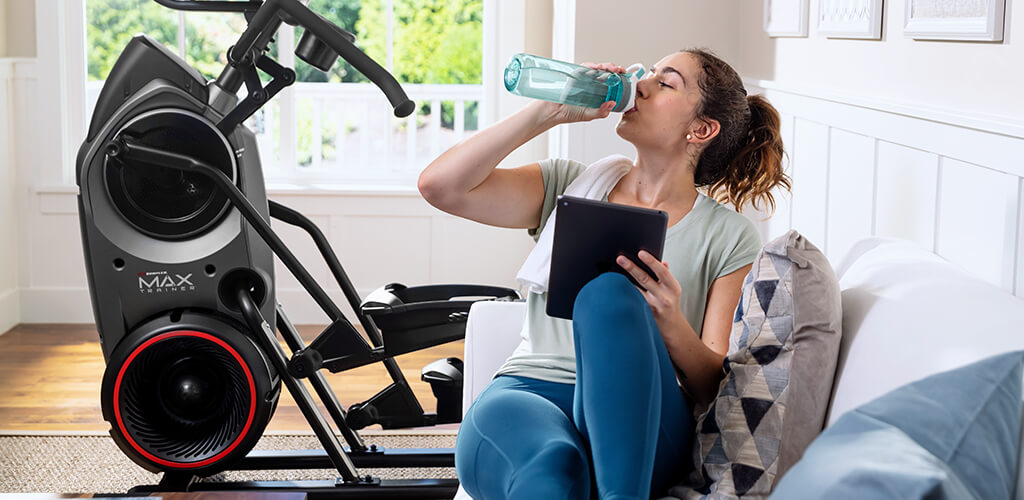 Fitness not only impacts Kimberly's overall well-being but frees up her mind – her best ideas come to her when exercising. After her morning workout, she puts her devices on do not disturb to journal every morning about what she is grateful for and what she wants out of the day.
Her biggest piece of advice for those who use the excuse "I'm too busy to workout" is isolating one behavior that you'd like to change versus overhauling your health and wellness routine. Many times when someone says they're "getting started working out," they often mean they're beginning a full wellness regime that includes training three times a week, drinking a gallon of water a day, and eating protein and veggies for every meal. However, Kimberly recommends picking one thing to get started with and then commit to executing that one practice at a regular cadence for one month. Once that becomes a habit, add on one more thing and so on.
As Kimberly knows firsthand, life gets busy, but to keep up with it, fitness has to be in the mix. The more you invest in your health, the more you can enjoy the benefits of a long and healthful life.
You may also like
Building Mental Strength Through Exercise