Breakfast On The Road

I don't know about you but when I'm camping, I'm extra hungry when I wake up in the morning. Before embarking on this super low-sugar diet, bananas and a cup of coffee were my staple upon wakening. Now, I must think more strategically about the first meal of the day.
Prior to leaving for our trip, I made up a batch of low-sugar hazelnut flour pumpkin muffins (you can use almond or hazelnut flour but I have to use hazelnut due to an almond sensitivity a blood test revealed, which means no almonds, almond milk, almond flour, etc). They're hearty, filling, and hold me over until the rest of camp is awake and breakfast is cooked. Another good option would be quinoa flour pancakes or a low-sugar baked good of your choice. I tested a few recipes beforehand, including a few that got tossed in the garbage, so I knew I had something tasty to pack and enjoy while the rest of my family enjoyed fresh baked muffins from the camp hosts.
Tip #1: Experiment with new flours, sweeteners, and recipes. Find a few staple recipes you enjoy. My favorite alternative flours are quinoa, hazelnut, and coconut or a combination of them because of their protein and fiber content. The texture of quinoa flour is just like regular white or wheat flour, which is hard to come ! It does have an earthy nutty flavor that takes some getting used to.
My favorite sweetener is a combination of monk fruit and erythritol because it has zero calories, no weird metallic aftertaste, no effect on blood sugar (key to gut healing and keeping inflammation to a minimum), and no potential side effects that artificial sweeteners can have on metabolism and overall gut health. Side note: The package says it's a 1:1 sugar substitute but I like to use ½ or 1/3 of whatever the recipe calls for. I prefer things on the bland side rather than sickeningly sweet.
Tip #2: Pack a few simple options such as low-sugar fruit (in a plastic food container), nuts, grain free and hard-boiled eggs. My other go-to on the road breakfast is a simple yogurt parfait with plain Greek yogurt (I prefer 2% milkfat versions because it's creamier and not quite so tart as non-fat), blueberries or raspberries, and my homemade yogurt mix-in (recipe below) or Julian Bakery Grain-free Granola.
Tip #3: Dinner leftovers make a great breakfast too. Plan to cook extra meat and vegetables at dinner and top with an egg in the morning. The most satisfying breakfast I had on the road was leftover grilled moose steak over sautéed veggies topped with a duck egg. I can't tolerate chicken eggs currently but there's no added nutritional benefit to eating duck eggs over chicken eggs.
Erin's No-Sugar Yogurt Mix-in
Prep time: 1 minute
Cook time: n/a
Total time: 1 minute
Servings: 6
Serving size: 1/4 cup
Nutrition per serving:
Calories 155Fat 14 gCarbs 5 gFiber 3 gProtein 4 g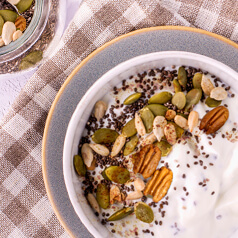 Ingredients
½ cup mixed raw sprouted sunflower and pumpkin seeds
½ cup chopped pecans
¼ cup unsweetened shredded coconut
2 tsp cinnamon
2 tbs chia seeds
Next week, I'll be covering lunch and snack options to keep you fueled on the road, trail, and beyond!
You may also like
Camping Dinner Ideas