Good Egg: Better For You Benny Recipe

Bring me to brunch, and I'll be the girl ordering the eggs benny – Florentine, to be exact. I just can't say no. The ooey-gooeyness of the poached egg mixed with the richness of the hollandaise, seeping through deliciously sautéed spinach, making its way to a thick cut of sourdough bread or housemade English muffin. I mean, Y-U-M. The spinach in the Florentine tricks you into thinking it's healthy, sort of, but we all know that's far from the truth.
Because of that, I made it a mission to create a better-for-you version of the beloved eggs benny. But before we get started, I should mention that my better-for-you version isn't a true eggs benedict, but instead, a healthy breakfast that delivers the same satisfaction without the guilt.
Enter the soft-boiled egg. One of the reasons most people order eggs benedict at brunch is because poached eggs can feel like a mystery to make, so it's a delightful treat when you're eating out. But it doesn't have to be that complicated. Soft-boiled eggs are a much easier way to get the feel of a poached egg but without the hard work. All it takes is a pot of boiling water, an egg, and six minutes of your morning. A rinse under cold water and a gentle peel, and you're on your way.
Soft-boiled eggs go great over a salad, avocado toast, or this better-for-you benny.
Better-for-You Eggs Benedict
Prep time: 5 minutes
Cook time: 10 minutes
Total time: 15 minutes
Servings: 2
Nutrition per serving:
Calories 313Fat 20 gCarbs 21 gFiber 6 gProtein 14 g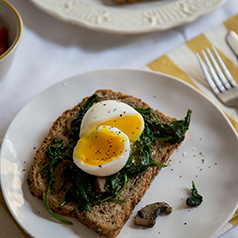 Ingredients
2 eggs
2 pieces whole grain bread*
1 ½ cup raw spinach, packed
1 cup crimini mushrooms, sliced
Ground pepper
Salt
1 tablespoon olive oil
1 tablespoon grass fed butter
To get the goods
Heat olive oil and butter in a pan. Add mushrooms and sauté until tender, then mix in spinach cook until soft. Set aside.
If making the tomatoes, add a tablespoon of olive to a pan. Add the cut grape tomatoes and a healthy amount of salt and pepper and sauté for about 8 minutes.
Meanwhile, bring a pot of water to a boil. Add eggs and set a timer for six minutes. Once done, remove and run under cool water. Gently peel the egg (I repeat, gently – we're dealing with liquid yolk-gold here, people).
Lightly toast the bread and top with the spinach-mushroom mixture and the soft-boiled egg. Plate the tomatoes or add them to the toast. Give a couple of grinds of pepper and sprinkle with coarse salt. With a sharp knife, cut down the center of the egg and stand in awe of your perfectly boiled egg. Now, go on – dive in and enjoy.
*I love Dave's Killer Bread Organic Powerseed because it's packed with protein, fiber, and whole grains
Tip: If you're a fan of avocado, try a soft-boiled egg over avocado toast. Toast the bread, top with half of a smashed avocado, a drizzle of olive oil, soft-boiled egg, crushed red pepper, a grind of garlic, a grind of pepper, and a sprinkle of coarse salt.
Try this recipe next
Fridge Free-For-All: Chicken Veggie Kabobs Recipe