The Best Salad Ever: Crunchy Winter Salad

Salad. Again. Bleh. I get tired of the standard green salad, even with using different vegetables like chopped radishes, cabbage, and snow peas or adding other items like nuts, olives, and cheese. This salad is completely free of salad greens, hearty enough to be an entire meal with the addition of chicken yet light enough to not make you feel weighed down. The perfect go-to packable lunch and perhaps my new favorite meal plan item!
Crunchy Winter Salad
Total time: 30 Minutes
Servings: 6
Nutrition per serving:
Calories 327Fat 21 gProtein 22 gSodium 375 mgSugar 7 g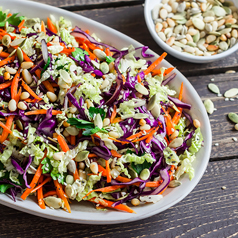 Ingredients
For the salad:
3 cups broccoli
1 cup red cabbage, roughly chopped
2 cups carrots, roughly chopped
1 cup kale
1/2 cup sunflower seeds
2 cups grilled chicken breast, chopped
1 1/2 cups fresh parsley
1/2 cup almonds
For the dressing:
3 Tbsp olive oil
1/4 cup lemon juice
1/4 lime juice
Orange juice from one orange or about 1/4 cup
1 teaspoon sea salt
Splash of soy sauce or coconut aminos (optional)
Directions:
Chop or place first five ingredients in a food processor and blend until roughly chopped.
Add all of the salad ingredients to a large bowl.
Mix ingredients for dressing and pour over vegetables; toss gently to mix.
Refrigerate for 1–2 hours prior to serving to let flavors develop.
Tips and Variations:
Keeps in fridge for up to 5 days.
Add 2 cups of cooked quinoa for a filling one bowl meal.
Other variations: Add 1/4 cup fresh basil and skip the soy sauce for a different flavor.
Try this recipe next