Beef and Okra Stir Fry

This meal is a fantastic source of protein, fiber, magnesium, zinc, and Vitamins A, B6, and C. It's healthy, delicious and the fiber will help keep you full. If you've never tried okra before, this is a great place to start.
Beef & Okra Stir Fry
Servings: 2
Nutrition per serving:
Calories 346Fat 11.3 gCarbs 24.4 gFiber 7.9 gSugars 2.9 gProtein 37.7 g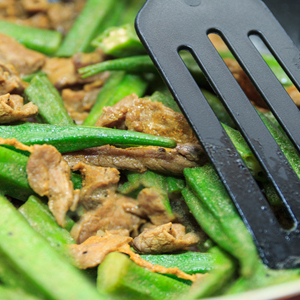 Ingredients
1/2 cup beef broth
1 Tbsp date sugar
2 Tbsp light soy sauce
1 Tbsp fresh lime juice
1 Tbsp spelt flour
1 Tbsp avocado oil
1/2 lb flank steak, cut into 2 inch strips
12 oz frozen or fresh Okra
1 Tbsp ginger, minced
1 Tbsp garlic, minced
1/4 cup fresh mint
1/4 cup cilantro
Directions:
Whisk together beef broth, date sugar, soy sauce, lime juice, and spelt flour.
Heat oil in large skillet or wok, and stir-fry steak over high heat until meat is brown and no pink can be detected, about 4 or 5 minutes.
Heat 1 Tbsp of water in a medium skillet, and add okra, garlic, and ginger and stir-fry for 2-3 minutes, or until soft. Pour beef broth mixture over okra, and stir often for 3-4 minutes.
Pour okra mixture over beef, add mint, cilantro, and stir for 2 minutes. Season with salt and pepper, and serve and enjoy.
The Magic of Magnesium
Magnesium helps maintain normal muscle and nerve functions, regulates blood sugar levels, and helps promote a healthy blood pressure. Magnesium has been shown to help with asthma, depression, diabetes, fibromyalgia, hearing loss, headaches, osteoporosis, premenstrual syndrome, and heart disease. This mineral is also intimately related to serotonin, the neurotransmitter known for boosting a happy disposition. When magnesium is low, so is serotonin. Getting enough magnesium in your diet is a good way to help insure that your serotonin levels stay high. The best sources of magnesium are nuts, dark green vegetables, soy products, and whole grains. Adult women should get around 320 mg of the mineral, and adult men should aim for about 420 mg.
Did you enjoy this recipe? Let us know in the comments below, and be sure to check out our other recipes for more delicious and healthy meals.
---
Try this recipe next: