Back to School Dinner Meal Planning: Back to Basics

Welcome to our "Back-to-School" series to make this season of change as smooth and nourishing as possible! The goal of this series is to lessen your stress and increase the number of healthy home-made meals you share together as a family, which more and more research shows has a profound impact on our children's physical and emotional well-being.
With my oldest child starting kindergarten, my youngest starting full-day preschool, my husband traveling more and more for work, and myself embarking upon a new career focus, I'm feeling a little frazzled and overwhelmed as I write this. And we haven't even gotten into homework, dance classes, or my entire workload yet! There's a LOT to juggle, remember, and think about.
I don't want to have to think at the end of the day or try to figure out what to cook for dinner on the fly. I definitely don't want to find myself picking up a take 'n bake pizza or drive thru on a regular basis (though I know it might happen from time to time!).
The best way to achieve this goal: have a plan AND a back-up plan! Part of this strategy is to plan our dinner meals for at least one week in advance, grocery shop, and do as much prep on the weekend as possible. In addition to having dinners planned, my ultimate goal is to also have breakfast and lunch ready to go the night before but we'll save that for another blog.
Beyond giving you simple healthy recipes, I want to give you tools and guidelines, so you feel confident building your own meal plan that fits your family's needs, schedule, and budget.
Here are the 6 steps to make an effective dinner meal plan:
Set aside 10-15 minutes to construct the dinner meal plan
Take into consideration after-school and evening activities, commitments, and your energy levels or workload throughout the week. For example, we have dance classes on Monday and Tuesday. I'll leave at 7:30am and won't get home until 5:30pm. For these two days, we'll either have weekend leftovers or something super quick. Wednesdays are a short day so I'll plan to cook something requiring a little more time. By Friday, I anticipate I'll need a break so my Friday options are super easy that require little to no cooking or clean-up: freezer casserole I can pull out the night before, pizza and salad, or some other sort of take out that I'll rotate through.
Get familiar with or invest in your crockpot or Instant Pot. These are both lifesavers!
Add one sheet pan dinner per week to your menu (can be prepped the night before). *See Recipe Template Below
Include one freezer meal per week and pair it with salad or freshly cooked vegetables.
Have 2-3 super simple go-to meals such as wraps, rotisserie chicken with vegetables and microwave quinoa/rice, or black bean burritos (using canned black beans and high fiber tortillas or wraps topped with salsa and avocado) and salad.
Sheet pan meals are one of my favorite go-to meals for multiple reasons: clean-up is simple, they are healthy and tasty, there's a TON of variety using this template, they can be prepped the night before, and once the pan goes in the oven, I can do something else like help my daughter with homework, fold laundry, or check a few work emails. Multi-tasking at its best!
Sheet Pan Meal Template
Prep time: 20 minutes
Cook time: 25 minutes
Total time: 45 minutes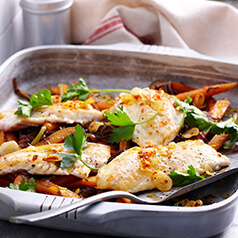 Ingredients
Select a protein, potato, and vegetables of your choice.
If you prefer using a grain or want variety, replace the potato with brown rice, quinoa, or other grain of your preference. You can cook on the stove top while the protein and vegetables cook in the oven.
I recommend marinating the protein, if you have time, with citrus juice, balsamic or apple cider vinegar, and spices right on the sheet pan.
For weeknight meals, the protein and vegetables can be prepped the night before, covered and placed in the fridge.
Directions
Preheat oven to 425°.
Spray a large cookie sheet with cooking spray, grapeseed oil, or use a silicone baking mat for easy clean-up.
Cover 1/3 of the cookie sheet with sliced protein of your choice: Chicken, pork loin, large shrimp, or lean steak.
Cover another 1/3 with diced potatoes.
Cover the last 1/3 with vegetables of your choice: broccoli, green beans, asparagus, mushrooms, onions, peppers, or halved brussels sprouts all work well.
Lightly drizzle with grapeseed oil, mix to well-coat, and sprinkle with spices of your choice.
Bake for 20-25 minutes.
Enjoy!
You may also like