Asian Chicken Edamame Slaw Recipe

No cook recipes or using leftovers to make a new meal are my FAVORITE, especially when it's even too hot to grill during the scorching summer months.
This fusion of crunchy vegetables topped with leftover chicken breast and shelled edamame (soybeans) and drizzled with a light tangy dressing is the perfect lunch or dinner during even the hottest of summer days. One of my other favorite things about slaws is that they usually taste even better the next day and you can keep them in the fridge for 2-3 days, unlike lettuce-based salads. Double the recipe to have lunch or dinner ready to go!
Time-saving tip: Most grocery stores carry bags of chopped cabbage and shredded carrots. Buy 2 bags of chopped cabbage or coleslaw mix and 1 bag of shredded carrots if you want to save time on chopping.
Asian Chicken Edamame Slaw
Prep time: 15 minutes
Cook time: 0 minutes
Total time: 15 minutes
Servings: 8-10
Serving size: 1 ½ cup
Nutrition per serving:
Calories 190Fat 5 gCarbs 14 gFiber 7 gProtein 14 g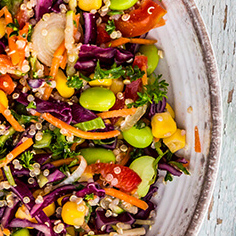 Ingredients
For Slaw:
1 small head of green cabbage, chopped
½ small head of purple cabbage, chopped
1 cup shredded carrots
1 red bell pepper, diced
2-3 chicken breasts, diced
1 cup shelled cooked edamame
For Dressing:
1/3 cup PB2 or peanut powder
1/3 cup water
1 tsp. minced garlic
1 tsp. minced ginger
½ tsp. smoked paprika
½ tsp. salt
2 tbsp. rice vinegar
1 tbsp. olive oil
Directions:
Chop or prep all vegetables and put in a large bowl.
Combine ingredients for sauce and stir until smooth.
Poor over vegetables and mix to combine.
Optional toppings (I highly recommend these for added flavor and texture): chopped cilantro, chopped green onions, crushed peanuts or slivered almonds.
Try this salad next
The Ultimate No-Cook Salad