Apple Breakfast Cookies Recipe

The amazing apple: versatile, easy to pack, and a favorite staple at my house. From apple slices with peanut butter to applesauce to chopped apple in yogurt and oatmeal, apples are a fiber-rich sweet crunchy snack not only packed full of Vitamin C but also the less commonly known quercetin. Quercetin is only found in a few foods, including green tea, berries, onions, and apples, and it's a powerful phytochemical with anti-inflammatory properties. What does this mean for you and your health? The old saying, "An apple a day keeps the doctor away" holds a lot of truth!
Try incorporating an apple a day post-workout for quicker recovery (the quercetin and Vitamin C help quench the build-up of free radicals to reduce post-workout muscle soreness) or try these yummy apple breakfast cookies for an energizing on-the-go meal or snack.
(Side note: I took these to my son's preschool for snack time and the entire class of 3-year-olds loved them!)
Apple Breakfast Cookies
Prep time: 15 minutes
Cook time: 10 minutes
Total time: 25 minutes
Serving size: 2 cookies
Nutrition per serving:
Calories 85Fat 2 gCarbs 14 gFiber 2 gProtein 2 g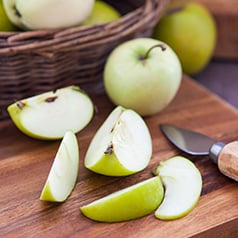 Ingredients
1 cup quick-cooking oats
¾ cup whole wheat flour or oat flour
1 ½ tsp cinnamon
1 ½ tsp baking powder
1 chopped or grated apple
½ cup unsweetened apple sauce
1 egg
1 ½ tbs butter, melted or coconut oil
1 tsp vanilla
1-2 tbs maple syrup or honey
For oat floor: Blend ¾ oats in blender or food processor.
I prefer Granny smith or Honeycrisp and grating the apple so there aren't chunks in the cookies.
Optional mix-ins: Raisins, fresh blueberries, shredded coconut, or chopped nuts or seeds.
Directions:
Preheat oven to 350° F. Spray cookie sheet or line with silicone baking mat (my fav!).
Combine all dry ingredients in a medium mixing bowl.
Add wet ingredients (apple through honey) and stir until well combined.
Add mix-ins of your preference and stir.
Place one heaping spoonful (about 1 tablespoon) of dough on cookie sheet.
Bake for 10 minutes.
Be sure to check out our other recipes for more delicious and healthy meals.
Have leftover apples? Try this recipe next
Have leftover apples? Baked Cinnamon Apple Chips With Maple Yogurt Dip recipe