A Father's Inspiration: Jason Miyagishima's Schwinn® Story

By Guest Blogger, Jason Miyagishima
Inspired by my father, Glenn Mitsuo Miyagishima, I started an annual fundraiser called the "Mitsuo Strength Project" in his honor to benefit cancer research organizations and wellness programs. In December 2011, my father lost his battle to gastric cancer. The inaugural event, which benefitted The Gastric Cancer Foundation, was held on February 12, 2015 — which would have been my father's 70th birthday. I rowed 24 hours straight on a Concept2 rowing machine.
This year, I chose to change it up and attempt something that nobody has done before. On February 12, 2016, I rode 24 hours on the Schwinn® Airdyne® Pro! My friends and family thought I was crazy, but it was something that I have been thinking about doing for a long time. I knew I would have to train hard for this one. I started with riding for an hour at a time at a pace I felt I could do for 24 hours. Then, I added an hour to each training session, feeling confident when my sessions reached six hours at a time. I knew after that point, completing this 24-hour ride was going to be all mental.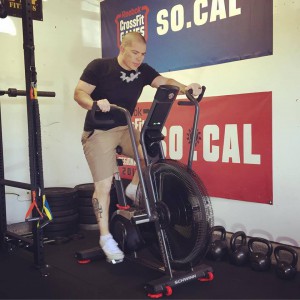 As I began my 24-hour journey on the Airdyne® in my local CrossFit® gym in California, many of my friends joined me. They started the ride by my side at midnight to support my efforts. Throughout the day, I always had somebody riding next to me. I also did a live video stream so people could check on my status and make sure I was still alive! My wife Debbie was probably the one watching most to check up on me, posting funny comments to keep me distracted from the pain I was in.
I wasn't long into the 24-hour challenge that my ride became very painful. I started thinking, "What the heck did I get myself into?"
This was one of the most challenging things I have ever attempted in my life! It was much more intense than rowing the previous year, and I realized why nobody had ever done it before. This was more of a test of mental strength than anything else. I knew my body would be able to do it, but if it wasn't for the community support, I don't know if I would have mentally been able to stay with it.
Just when I thought to myself, "I don't know if I can finish this," a family walked in to watch the event. A young boy and his sister gave me a poster they made that said: "Go Jason, Go!"
It turned out that the young boy is battling leukemia and he cashed in his piggy bank so he could donate to the fundraiser. He said that he wanted to help make it possible for other kids that are in his situation to get the kind of support that he received because of organizations like CancerFit, Inc. That put some things into perspective and allowed me to refocus on the task at hand — thank you to Sal & Mia!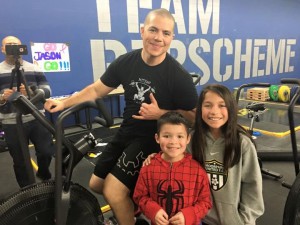 The pain and discomfort I was going through paled in comparison to what these cancer patients are going through. I finished strong with a sprint joined by my awesome friends and family at CrossFit RepScheme in Northridge, California.
After I finished at midnight, I was so happy it was over! Not only were we able to raise money for these great organizations that are in the fight against cancer, I hope I was able to make my Father proud. Hopefully, I was also showing my son, Matthew, an example of honor, respect, and the beauty of giving.
I would like to thank the following organizations for their support:
Author Bio: Jason Miyagishima is a California-based CrossFit enthusiast and coach, as well as founder of Mitsuo Strength Project.
You may also like