3 Simple Ways to Bounce Your Body Back After a Vacation

By Guest Blogger Yenory G. Pouncil
I recently returned from a trip to Panama City for my husband's thirtieth birthday. If you've never been, it is truly a remarkable place. We spent a few days in Casco Viejo, which is not only breathtaking, but also full of a lot of history and delicious food. We spent the rest of our trip at an all-inclusive resort at Playa Blanca, which had beautiful volcanic sand.
But when I returned from my week-long vacation, full of lots of unhealthy eating and drinking, I was in major need of a reset. During this process I learned some valuable lessons to help bounce my body back after my vacation. I'd like to share them with you:
Start Right Away
Do not wait to begin. When you come back from vacation, you often want to jump back into your routine as soon as you can. So, before leaving on your trip, make sure you have food at home to prepare the moment you get back. If you are traveling for a long period of time, pick up groceries as soon as you arrive home. Do not extend your vacation at home. It will only make it harder to get back in to your routine and cost you more money.
Drink a Lot of Water
It can be very hard to maintain a consistent water intake while on vacation. Do your best to drink plenty of water throughout the day. While packing a water bottle can be very helpful, it doesn't always solve the problem. And, as soon as you arrive home, make an effort to increase your water intake. I usually aim for 100 ounces per day. This is also the perfect time to avoid alcoholic and sugary drinks. Try to stick to water as much as possible, at least for the first week after you get back.
Detox for 10 Days
Try going vegan or vegetarian for at least 10 days following your trip. Before you panic, let me explain. Aim to make 80 percent of your meals vegan or vegetarian. Use the remaining 20 percent for everything else. By eating mostly fruits and vegetables, you will flush your body of any toxins from heavy drinking or unhealthy eating. You might think 10 days is a long time, but you will be surprised at how reasonable this is. Try to do the best you can.
When I got back from this last vacation I felt sluggish and even a little sick. I did not want to risk getting worse, so I dove back into my healthy living routine. For the first time I did not extend my vacation at home and got back to healthy eating habits right away. I am very happy with the results. Not only do I feel much better, my body is almost back to normal.
A week after returning from my trip, I've lost most of my vacation weight with no exercising. I am excited to slowly get back into my workouts — starting next week!
Guest Bio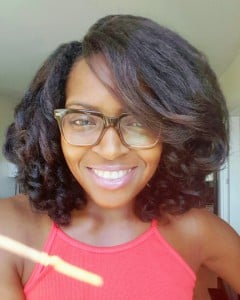 Yenory is a Meal Prep Coach and the founder of iAmHealthyFit. She helps people live healthier and happier by focusing on meal prepping, exercise, and tips for balancing healthy living.
You may also like