Images
Product Video

Bowflex Max Trainer M3
Details
http://www.bowflex.com/max-trainer/m3/100358.html
Promotions
Only $50 Shipping!
Details

Enter the coupon code WINTERSALE in the shopping cart to get a Bowflex Max Trainer® M3 shipped to you for only $50.

Offer only valid within the 48 contiguous states of the continental U.S. We regret we cannot ship to P.O. Box or international destinations. Shipping discount applies only to the Bowflex Max Trainer® M3 and does not discount the shipping for other items in your order. Offer not available with any other offer and is subject to availability and may change at any time. Price is subject to change. Offer is valid once to a customer and excludes previously placed orders. Offer is not valid at retail stores or outlets. Offer valid for a limited time only.
Additional Information
All the burn with a streamlined design
Control resistance and speed with the click of a dial. The Max Trainer® M3 puts you in control and delivers the breakthrough 14-minute Max Trainer® workout. With a slim footprint, it fits in virtually every room of your home.
Console feature

Foot pedals feature

Resistance control hand grip feature
Product Features
8 Resistance Levels

2 Workout Programs

Max Interval, Manual

Heart-Rate Monitor

Included chest strap

Water Bottle & Media Shelf/Tablet Holder

Target-Zone & Burn-Rate Indicators

Warranty

1 Year
Full Specs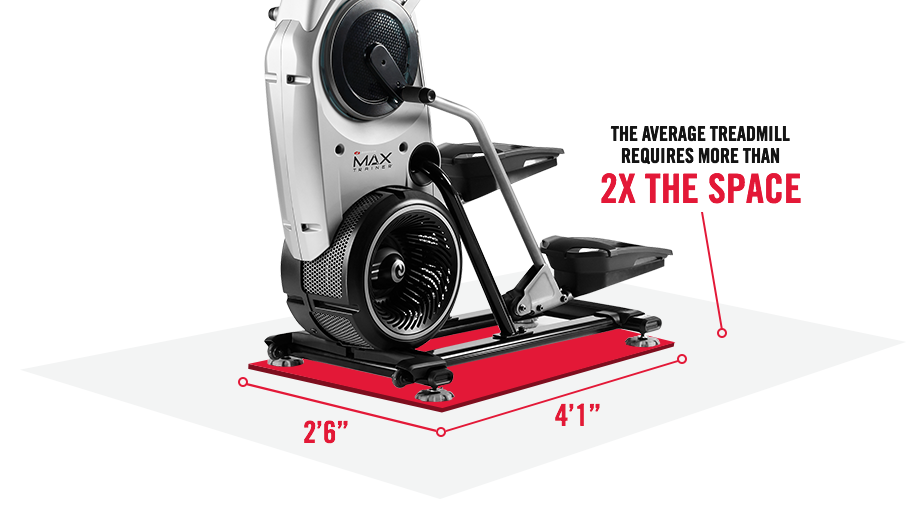 Compact Design
Fits Almost Anywhere
At a fraction of the size of most ellipticals and treadmills, the Bowflex Max Trainer is the epitome of form meeting function. The M7's ultra-small footprint means you can get a gym quality workout in nearly any room of your home.